Tan Mousse – Medium
Content: 200 ml.
A light and delicious tan mousse that suits you, who want to avoid the sun but still want that summer glow all year. 
With this self-tanning mousse, you do not have to worry about orange skin and strange odor. Our unique formula ensures a delicious tan, which is developed in few hours and leaves the skin hydrated and soft. This tan mousse is easy to apply using our tanning mitt and is quickly absorbed. Your glowing tan lasts up to 7 days, but with daily use of body lotion you can extend the durability of the color.
Enjoy that glow all year round!
Free shipping on orders over € 50
Application
Step 1:
For best results, exfoliate 24 hours in advance and moistures your skin before use.
Step 2:
Shake the bottle well and apply the self tanning mousse using our tan applicator mitt in long sweeping motions, starting at the ankles, and working your way up. Ensure all areas are and wash palms after use.
Step 3:
Wait until touch dry before getting dressed.
Step 4:
For a longer lasting, darker tan, allow 4-8 hours before showering to reveal your developed tan.
Step 5:
To prolong and maintain your tan, moisturize daily, exfoliate regularly, and reapply as desired.
Tips to prolong your tan:
Shorten your bath time and be careful with the towel. Dab yourself dry after a bath.
Apply a moisturizer daily.
Inside out
This tanning mousse gives you a natural looking tan. Please note that this self tanning mousse contains pure vitamins and natural oils to make your skin perfectly tanned, hydrated and smooth without streaks. This fast-absorbing mousse formula provides instant bronze to the skin and dries quickly and can be used for face and body. Our product contains DHA which is an ingredient that temporarily tinting the skin to darken it. DHA is an active ingredient that are a non-toxic sugar that is derived from plants.  
We recommend that you exfoliate your body 24 hours before use, to get the best results. Apply on a clean and dry body and let the product do the magic. 
CAUTIONS:
Carry out a patch test before use.
Do not apply to irritated or sensitive skin. Stop using if skin becomes irritated.
This product does not contain a sunscreen and does not protect against sunburn.
Avoid contact with eyes.

Wait until touch dry before getting dressed.

Avoid putting on light clothes or sitting in light and delicate furniture until you have taken the first bath.
Ingredients
Water (Aqua) , Propanediol, Dihydroxyacetone, Cocamidopropyl Betaine, Tocopherol , Glycerin , Cocos Nucifera (Coconut) Oil , Theobroma Cacao (Cocoa) Extract, PEG-40 Hydrogenated Castor Oil, Chamomilla Recutita (Matricaria)Flower Extract , Sodium Lauroamphoacetate , Punica Granatum Fruit Extract , Cyamopsis Tetragonoloba (Guar) Gum, Alcohol, Ethylhexylglycerin , Caprylyl / CaprylGlucoside , Fragrance (Parfum), Phenoxyethanol.
Get inspired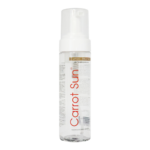 Tan Mousse – Medium