Self Tanning Remover
Contents: 200 ml.
Are your tan started to fade and skin looking a little dry? Then it is a sign that you need to remover your tan. With our self tan remover you can get rid of your tan in just a few minutes.
Before you get started with your scrub glove, we have something that makes the process much easier and less painful. Removing old, unwanted self tan couldn't get easier with our self tan remover. This foaming solution gently removes old self tan in few minutes. The nourishing ingredients leaves your skin smooth and fresh, ready for a new layer of tan.
Free shipping on orders over € 50
Application
Step 1:
For best results, apply self tan remover to dry skin at least 3 days after applying self tan.
Step 2:
Pump foam into palm and apply generously to dry skin. Leave on for at least 5 minutes.
Step 3:
Shower with warm water using a wet face cloth to wipe away the self tan.
Step 4:
For more stubborn areas, use Smooth Summer Tan exfoliating Mitt to gently remove any remaining self tan.
Inside out
Forget about the scrubbing glove and let our tan remover do the hard work for you. Our tan remover removes your old tan easy and mild in short time. Our tan remover, removes your tan and leaves your skin silky soft and ready for a new layer of self tan. We have made sure that our product is filled with only the best ingredients and not least a nice and mild scent that is irresistible.
Ingredients
Water (Aqua), Glycerin, Cocamidopropyl Betaine, Cocos Nucifera (Coconut) Oil, Glycolic Acid, Alcohol, Aloe Barbadensis Leaf Juice, Simmondsia Chinensis (Jojoba) Seed Oil, Chamomilla Recutita (Matricaria) Flower Extract, Calendula Officinalis Extract, Hibiscus Sabdariffa Flower Extract, Sodium Hyaluronate, Sodium Ascorbyl Phosphate, Xanthan Gum, Ethylhexylglycerin, Phenoxyethanol, Sodium Bicarbonate, Citric Acid.
Get inspired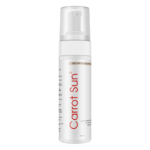 Self Tanning Remover