Aloe Vera Gel
€ 13,00
Contents: 95 ml.
This Aloe Vera after sun gel helps you restore moisture to the skin and helps prevent drying and peeling. *Cools irritated and damaged skin from UV rays.
This after sun is a must product! It is absorbed immediately and leaves your skin nicely cool and soft. It can be applied on the face as well as on the body and is suitable for all skin types. It can be used after any sunbath and is especially suitable for those who have suffered sun damage.
Aloe vera after sun gel has many incredible benefits, it helps with skin problems like acne, blemishes and pigmentation. It is also effective in treating minor wounds or burns and not least, it contains anti-aging properties. Aloe vera is anti-inflammatory, antimicrobial and full of the good nutrients for the skin: vitamins C, E, beta-carotene, amino acids, enzymes and antioxidants.
Important information:
The product must not be used on major burns.
Beauty tip:
For extra cooling effect, store your aloe vera after sun gel in the refrigerator.
Free shipping on orders over € 50
Application
Apply aloe vera after sun gel after each sunbath to moisturize and cool the skin. It can be applied both on the face as well as on the body. NOTE. Be aware that the product does not come into contact with the eyes.
Ingredients
Water, Carbomer 940, Diethanolamine, Propylene glycol, Methylparaben, Propylparaben, Aloe vera extract, Fragrance
Get inspired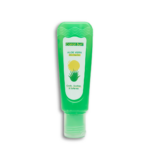 Aloe Vera Gel