Carrot Lotion
€ 22,00
Content: 200ml.
This lotion is suitable for all skin types that already have a base tan. The result is beautiful, dark glowing tan, very fast. Carrot lotion is easy to apply and has a great tanning effect.
With Carrot lotion you can expect a dark glowing tan, which at the same time moisturizes and nourishes your skin, and not least leaves the skin fragrant with tropical fruits!
Our new sunscreen has lots of properties. Carrot lotion can also be used as a body lotion as it contains other containing natural oils, Vitam A, E as well as Aloe vera, which goes in and nourishes and moisturizes your skin. This will definitely enrich your everyday life, especially in cold tides.
This product can be used both in solarium and in natural sun.
Free shipping on orders over € 50
Application
Let our Carrot Sun babes show you how to use it!
In the sun:
Apply a lot of the product on the skin to achieve the deepest glow – repeat as needed.
The cream does not contain SPF (Sun Protection Factor) but lycopene which acts as a natural SPF. We recommend applying the lotion after a regular sunscreen with SPF.
Inside out
This tan-accelerating lotion gives you the ultimate dark tan. This nourishing formula moisturizes your skin and gives you a glow you never had before, in addition to this, this lotion ensures that your tan lasts longer and leaves the skin soft.
Carrot Lotion is suitable for all skin types that already have a base tan. The result is beautiful, dark glowing tan, very fast – so get ready to get sunkissed like never before!
Carrot lotion can be used in sunbeds as well as in natural sun, and it is suitable for the body and face. It contains the two natural tan accelerators L-tyrosine and carrot oil, which stimulate and support the skin's natural tanning process. One of the benefits of this lotion is that it contains antioxidants, vitamin-a and omega-3 fatty acids that have moisturizing and cell-regenerating properties.
The product does not contain spf. We always recommend the use of a sun protection faktor if you are delicate and light in the skin, to avoid sunburn.
Ingredients
Paraffin oil, almond oil, wheat germ oil, papaya oil, fragrance
Almond oil
Almond oil is rich in Vitamin-E, which is a vitamin that improves skin health, prevents premature aging and prevents wrinkles. In addition to this, Vitamin-E prevents damage caused by ultraviolet rays.
Wheat germ oil
Wheat germ oil has a naturally preserved vitamin E and is a 100% pure, golden and nutritious oil which has, through gentle treatment, retained the natural tocopherol content. Tocopherol nourishes your skin and is incredibly moisturizing if you have eczema.
Papaya oil
Papaya's oil contains Vitamin-C, which strengthens the body's immune system. The oil refreshes, moisturizes and balances oily skin. The papaya oil beautifies your skin
Get inspired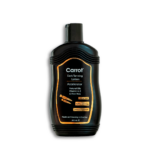 Carrot Lotion