Watermelon Oil
€ 22,00
Content: 200 ml.
Watermelon Oil is a natural sun spray for those who have normal, dry or unclean skin and would like a world class tan. Gently nourish your skin and take care of it when you stay in the sun.
Watermelon oil is healthy and nourishing for the skin and balances oil production so your skin does not become oily or dry. In addition, it contains vitamin B and essential fatty acids that soothes the skin before, during and after sunbathing. It is easy to apply the oil, which can advantageously be supplemented with regular SPF.
Free shipping on orders over € 50
Application
Let our Carrot Sun babes show you how to use our products!
In the sun:
Apply a lot of the product to the skin for the deepest glow.
Take your Carrot sun on vacation or use it in the solarium. The product does not contain SPF (Sun Protection Factor) but lycopene which acts as a natural SPF. Can also be applied over a sunscreen cream.
Contains almond & wheat germ oil. If you have sensitive skin, distress allergies or are gluten intolerant, please consult your dermatologist before use
Inside out
This accelerating spray is the lightest and driest of all our sprays. The oil is suitable for all skin types and is especially effective in dry and impure skin – Watermelon is very effective in balancing the skin's oil production. In addition, watermelon oil contains both B vitamins and fatty acids, which is why the product soothes and nourishes the skin.
The natural sun spray Watermelon Oil has several active ingredients that work tan-accelerating and protect the skin. Including lycopene, an antioxidant cathode that fights free radicals and thus protects the skin from UV-induced damage and redness. In addition, L-tyrosine and henna, which stimulate the production of melanin in the skin and improve your tan.
Ingredients
Almond oil, wheat germ oil, paraffin oil, watermelon oil, perfume
Watermelon oil
Watermelon Oil is suitable for all skin types, especially dry and impure skin, because watermelon oil softens, moisturizes and nourishes your skin.
Henna
Henna both cleanses and protects your body. In addition to this, it makes your nails and your hair stronger.
Almond oil
Almond oil is rich in Vitamin-E, which is a vitamin that improves skin health, prevents premature aging and prevents wrinkles. In addition to this, Vitamin-E prevents damage caused by ultraviolet rays.
Wheat germ oil
Wheat germ oil has a naturally preserved vitamin E and is a 100% pure, golden and nutritious oil which has, through gentle treatment, retained the natural tocopherol content. Tocopherol nourishes your skin and is incredibly moisturizing if you have eczema.
Get inspired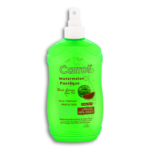 Watermelon Oil