Papaya Oil
€ 22,00
Content: 200 ml.
Papaya Oil is a product that is suitable for all skin types, but in particular has a good effect on light and damaged skin – the oil contains large amounts of vitamins A, C and E as well as lycopene.
Having trouble getting color? This natural sun spray quickly becomes your best friend – it guarantees you a beautiful, glowing tan that lasts all summer while providing good skin protection through natural SPF from lycopene.
The sweet scent of papaya is hard to stand by and makes you instantly in summer mood. Use the sun spray when sunbathing either in natural sunlight or solarium.
Free shipping on orders over € 50
Application
Let our Carrot Sun babes show you how to use it!
In the sun:
Spray plenty of the product on the skin to achieve the best tan when staying in the sun/solarium.
The product does not contain SPF (Sun Protection Factor) but lycopene which acts as a natural SPF. Can be easily applied over a sunscreen, which we recommend for best protection.
Contains almond and wheat germ oil. If you have sensitive skin, distress allergies or are gluten intolerant, please consult your dermatologist before use.
Inside out
If you have difficulty getting color, then this tan-accelerating and natural sun spray is really good for you – It is perfect for light and damaged skin due to the content of vitamins A, C and E.
The spray also contains an antioxidant called lycopene – it fights free radicals and acts as a natural SPF. Thus, it adds protection from UV-induced damage and redness.
It also contains L-tyrosine and henna which speeds up your tanning as well as giving you a golden color with extended life. Last but not least, it has a sweet aroma of papaya that reminds you of sun and summer.
Ingredients
Almond oil, wheat germ oil, paraffin oil, papaya oil, perfume
Papaya Oil
Papaya's oil contains Vitamin-C, which strengthens the body's immune system. The oil refreshes, moisturizes and balances oily skin. The papaya oil beautifies your skin
Almond oil
Almond oil is rich in Vitamin-E, which is a vitamin that improves skin health, prevents premature aging and prevents wrinkles. In addition to this, Vitamin-E prevents damage caused by ultraviolet rays.
Wheat germ oil
Wheat germ oil has a naturally preserved vitamin E and is a 100% pure, golden and nutritious oil which has, through gentle treatment, retained the natural tocopherol content. Tocopherol nourishes your skin and is incredibly moisturizing if you have eczema.
Get inspired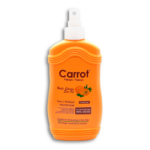 Papaya Oil