Tropical Fruit Oil
Content: 200 ml.
Are you crazy about the sun, summer and a tropical vibes? Tropical Fruit Oil is fragrant, color-accelerating and ensures a healthy skin.
This natural sun spray contains a unique blend of tropical fruit oils that keeps your skin moisturized and promotes a beautiful, long-lasting tan. The sun spray is effective and easy to apply – it also smells just like a summer day.
Sold out
Application
Let our Carrot Sun babes show you how to use our delicious products!
In the sun:
Apply a lot of skin to the deepest glow and tan.
Carrot Sun is suitable for use in natural sunlight and solarium. The product does not contain SPF (Sun Protection Factor) but lycopene which acts as a natural SPF. Can be easily applied over a sunscreen, which we recommend for maximum protection.
Contains almond and wheat germ oil. If you have sensitive skin, distress allergies or are gluten intolerant, please consult your dermatologist before use.
Inside out
This colour-accelerating and natural sun spray is a fragrant pleasure that lends itself well to developing a base-tan for all skin types.
The product contains the color accelerator L-tyrosine and a blend of tropical fruit oils, which both moisturize the skin and produce beautiful golden results after use.
This cream also contains henna, which enhances your colour and significantly prolongs your tan.
Ingredients
Almond oil, wheat germ oil, paraffin oil, carrot oil, tropical fruits, perfume
Carrot Oil
The beta-carotene vitamin is a precursor to Vitamin-A that gives you lovely soft and smoother skin. In addition, it also boosts the skin's melanin, giving you a faster tanning process.
Almond oil
Almond oil is rich in Vitamin-E, which is a vitamin that improves skin health, prevents premature aging and prevents wrinkles. In addition to this, Vitamin-E prevents damage caused by ultraviolet rays.
Wheat germ oil
Wheat germ oil has a naturally preserved vitamin E and is a 100% pure, golden and nutritious oil which has, through gentle treatment, retained the natural tocopherol content. Tocopherol nourishes your skin and is incredibly moisturizing if you have eczema.
Get inspired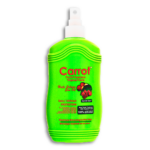 Tropical Fruit Oil