Tanning Mitt
A nice and soft self tanning mitt that helps you apply your self tanner perfectly.
By using this tanning mitt, you can easily apply your self tanner without any hassle. Apply the self tan directly on the glove and start applying on your body.
This super soft glove ensures you the perfect result and is reusable. Simply rinse the glove with warm water until the water is clear and let it dry afterwards, and then it is ready for use again.
Free shipping on orders over € 50
Get inspired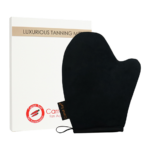 Tanning Mitt